A primer on windows. What should you buy, and how much of a difference will it make?
The most common questions we get asked here at Hollingsworth Home Improvement regarding new windows are, "What kind of windows should I buy?" and "How much of a difference will new windows make for my home?"
The answer to those questions are best answered by a thorough evaluation by one of our in-home Project Coordinators. Call us for a free estimate.
Hopefully, this article will give you a basic understanding of what is available, the different types of installations, and what materials are best suited to your needs.
What is available?
Modern windows come in a few varieties these days.  They all have advantages in certain situations.  The entry level windows are made of vinyl extrusions, commonly just called vinyl windows.  Vinyl windows have been given a bad rap, because they had significant issues early in their development.  One of the issues related to the frames sagging.  This was coined "vinyl window smile" because of the shape sagging windows take on.  Today, quality vinyl windows have several internal chambers and ribs to make the frames extremely strong.  Some add polyurethane foam to add even more strength.  Metal reinforcement may be added on extremely wide windows, but this is no longer very common.  Vinyl windows are available in double and single hung (vertical sliding operation), single and double sliders (horizontal operation) casement (crank out windows), awning and hopper (top or bottom hinged casements), and picture windows.  The windows have two or three panes of glass, and are typically as efficient or more efficient than other types of windows.  Vinyl windows are easy to operate, and inexpensive.  If you have old, sticky windows, vinyl will be a refreshing change.  You can get them in white (most common), tan, and a variety of exterior coating colors.  Interiors can have a factory applied wood grain finish (simulated) which looks very convincing.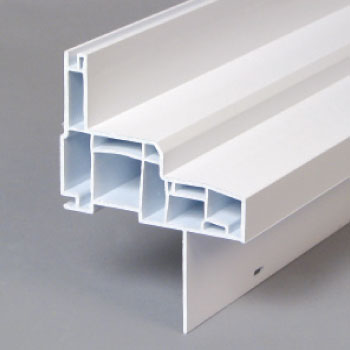 Next up are composite windows.  Many manufacturers offer a window with a wood interior for the beauty and classic appearance, but either clad the exterior in fiberglass or vinyl to make them weather resistant.  These offer the durability of the man made exterior, but allow you to stain the interiors to match existing trim and millwork of your home.  Fiberglass windows offer strength superior to any material on the market, with minimal expansion or contraction, so they remain tight and straight under a variety of conditions.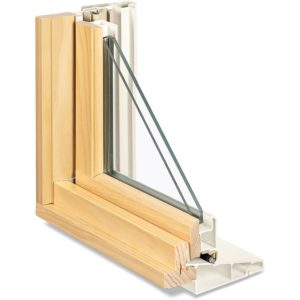 For a luxury look or a restoration of a classic older home, wood windows are a great choice. Most offer an aluminum clad exterior, or a vinyl jacket over the wood frame and sashes. These have a great selection of colors with the option to paint or stain the wood interiors. Extruded aluminum cladding is usually up to 1/8″ thick to armor plate the outside of the window. Roll-formed cladding is thin aluminum bent around the wood frame for weather protection.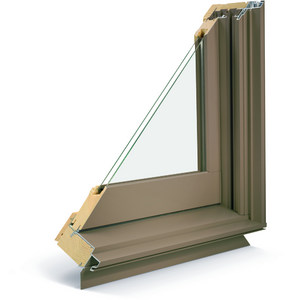 Installation types:
There are three main styles of installing a new window. First, and most common, is the replacement window. All of the moving parts of the old window are removed, leaving a box frame in the opening. The new window is inserted into this opening with a minimum of clearance, and fastened into the old frame. The outside is usually capped in aluminum to cover any exposed wood of the old frame. The advantages are you get a low cost installation and retain the old trim. The biggest disadvantage is that the new window is smaller than the old one, reducing the size of the glass you see. This is minor on large windows, but can be extreme if the old windows are small. Also, if the old window frame is weak, rotting, or poorly insulated around the perimeter, this is a poor choice.
The second type of install is sometimes done in brick openings where the brick is structural. It is called buck framing. A sub frame is created, and anchored to the brick. The new window is installed into this buck frame like a replacement window. The disadvantages are the loss of glass area compared to the thin steel or aluminum framed windows that were installed in brick openings in the past, but the energy savings are incredible compared to a metal window. Make sure your contractor foam fills the gap between the brick and buck frame to seal the perimeter and waterproof the installation.
The third option (and the best option) is what we call full-frame or new construction installation. As the name implies, the windows are installed in your older home as if it was being built new. This involves taking the old window completely out, removing the siding 2-3″ around the perimeter of the window, and installing the new window with a nailing fin.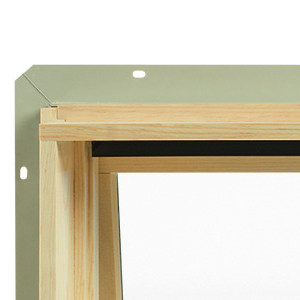 Nailing fin shown above
The nailing fin allows the window to be integrated into the exterior envelope of the home for the best weather and draft sealing. It is done with a mastic tape, and a foam sealant is applied inside before the trim goes up.
How much difference will it make to my energy bills and comfort?
This question depends on a lot of factors like: How leaky are the current windows? Are they single pane? How good was the original installation? How well insulated is the rest of the home?
A typical 1980's era home with R11 to R13 in the walls and R38 in the attic loses about 20% of its heat through the walls, 40% through the attic, and 40% through the windows and doors. If you have leaky and drafty old windows, this means you could more than cut that loss in half, and see a 20% reduction in heat loss or more. Also, new windows almost always include a glass coating called Low-E. It is a transparent metal coating on the glass which filters out infrared energy (heat from the sun) and Ultraviolet light (causes sunburn and fades rugs and furniture). There are various types of Low-E coating to add extra resistance for warm climates or sunny areas of the home. Many of our clients report serious reductions in noise as well. Dual pane windows can be ordered with laminated glass that rejects noise better than standard glass, in case you live near a busy road, train tracks, or an airport.
Now that you know the basics, why not Contact Us today for a consultation? We're here to serve the western suburbs of Chicagoland at 630-375-9110 for all your window, roofing, siding, and stone veneer needs!
If you live in the Great Lakes region of the country, I'm sure you've experienced this. Heavy snow falls when the temps are nearest to freezing. It thaws again when the temps are above 32 degrees, or the sun starts shining again. In a cycle of freeze and thaw, often...